Best Spiced 'Pumpkin' Bread Recipe Ever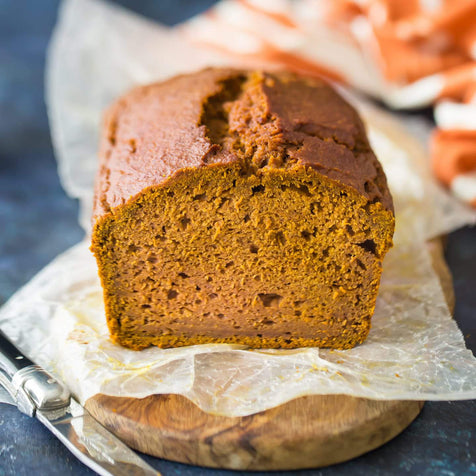 If you love pumpkin bread, we have a wonderful version that has a bit of fun inspiration behind it.  We planted quite a few winter squash varieties in the spring and wow did we end up with a ton of butternut squash.  Like 50lbs worth!  While we do love that creamy orange fall goodness, one family can only eat so much.
What to do, what to do?  Roast it up, scoop it out, blend it up with cinnamon, maple syrup and butter and viola, we have homemade puree that is the perfect substitute for pumpkin in all of our favorite recipes.
It is pumpkin spice season and we are all on board!!!  Ready for it?
Spiced Fall Bread
Best part, besides it being easy to make and tastes amazing, you can substitute the pumpkin portion with pureed winter squash (any orange flesh colored variety will work), or even roasted sweet potato puree. We are all in favor of being flexible!
Gather up…
1 cup purée...pumpkin (in a can is ok), winter squash or sweet potato
*You can even use a blend of all 3 if you'd like.  Simply make sure that your homemade puree is creamy and well blended to avoid chunks in your bread.  We love using our food processor or Vitamix to get the job done.
2 large eggs, room temperature
⅓ cup avocado oil (or oil of choice)
⅓ cup milk (all plant based milks work well too)
1 ¼ cups flour (gluten free all purpose flour mixes work well too)
¾ cups sugar (coconut sugar works well too)
½ teaspoon baking soda
½ teaspoon salt
½ teaspoon ground cinnamon
1 teaspoon pumpkin spice
¼  cup raisins
Optional: ¼ cup chopped nuts of choice (walnuts and pecans taste amazing!)
Time to get baking…
Preheat the oven to 350°F (180°C). Lightly grease a metal loaf pan; set aside
Place the puree of choice, eggs, oil, and milk in a large mixing bowl. Mix until super creamy.
In a medium mixing bowl, mix the flour, sugar, baking soda, baking powder, salt, cinnamon and pumpkin pie spice.
Add the dry ingredients into the wet, and mix thoroughly until smooth. Pour the batter into your prepared loaf pan. If desired, sprinkle with cinnamon and sugar.
Bake for 50 to 60 minutes or until a toothpick inserted comes out dry and, center is set. Allow to cool in the pan before removing to a wire rack. Slice when completely cooled.
Well there you have it, our favorite 'pumpkin' bread created out of an awesome abundance of winter squash.  However you make it, we hope that you love it as much as we do!