Delicious Summer Zucchini Fritter Recipe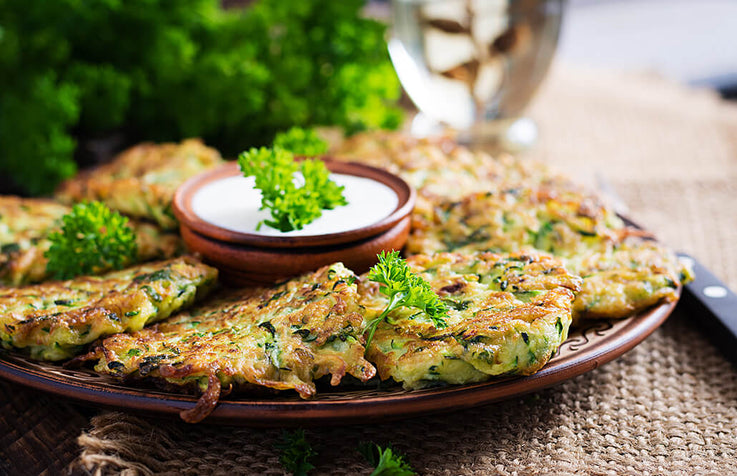 Do you have an abundance of zucchini?  We would love to share our favorite healthy zucchini fritter recipe with you!  We hope that your family loves them as much as ours does. 
Savory Summer Fritters
4 cups shredded zucchini (about 2 medium)
½ tsp sea salt (for 'sweating' the zucchini)
2 whole eggs (preferably medium in size)
½ cup red onion minced 
½ cup fresh chopped basil leaf 
3 cloves of fresh garlic minced 
¼ cup sweet red pepper fine chopped
¼ tsp sea salt
¼ tsp black pepper
¼ cup flour of choice such as white flour, almond flour or any all-purpose gluten free flour
1-2 Tbsp coconut oil, butter or oil for frying
Instructions
In a bowl, place the shredded zucchini and 1/2 tsp. sea salt. Mix gently with your hands and let sit for 10 minutes to allow zucchini to 'sweat'. After 10 minutes, place the zucchini in a paper towel or clean dish cloth (one that does not lint). Squeeze as much liquid out as you possibly can. Great stress relief technique. If you skip this step you may end up with soggy fritters. Not so yummy!
While the zucchini is 'sweating', in another bowl combine the eggs, red onion, basil, garlic, sweet pepper, additional sea salt, black pepper and flour.
Combine the squeezed shredded zucchini with the egg mixture and stir to combine. If the zucchini still holds a lot of moisture or eggs are on the larger side, you may need to add additional flour to achieve that pancake-like consistency.
Place a medium to large skillet on the stove over medium heat. Add cooking oil of your choice to the skillet. Once hot, drop ¼ cup portions of the zucchini mixture onto the pan. Press down gently so they are about ½ -inch thick.
Cook on each side for 3-5 minutes. Flip carefully making sure they do not fall apart. When done, place each fritter on a plate lined with a paper towel. Repeat and add oil between scoops so you have fritters that do not stick.  
Serve with a dollop of sour cream, a sprinkle of sea salt or as is! Enjoy!
Lots of gardening love from the Organic Plant Magic family. Have fun in the garden and the kitchen!