Planning Your Fall Garden Now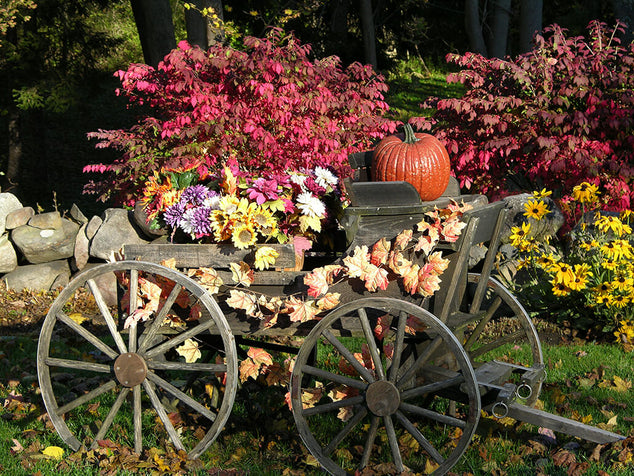 Crazy enough, fall is right around the corner and we know that you would love to keep that garden growing. With some planning, you can have homegrown organic goodness into those cooler shorter days of fall and possibly into winter.
Crops like broccoli, brussels, cauliflower, cabbages, leafy greens, spinach, collards, kale, lettuce, carrots, beets, turnips, and garlic, which needs to planted in the fall for a early to mid summer harvest, are amazing cool weather crops that can extend your growing season. 
These are our '5 Tips to Growing Cool Weather Organic Goodness'...
Give Your Soil Some Love: Before you get anything into the ground, please take care of your soil.  Enriching it with organic matter will ensure happy soil, happy microorganisms and happy plants. We love amending our garden's soil with our Organic Plant Magic Compressed Potting Soil. Use dry, not hydrated and mix into existing soil or even top dress your plants once planted. This will give your soil and plants a continual feed throughout the season. 
Sow Those Seeds Now: Either get those seeds started or purchase your favorite cool weather seedlings now. In cooler regions (USDA zones 6 and lower) you will need to get those fall crops in right away. In warmer regions, you have time. Sow seeds in shallow furrows topped off with ½ inch of potting soil, allow to sprout and then thin out to desired spacing. HINT: Look for fast growing varieties if you are in cooler zones. This will speed up the process. Shop your local garden center for cabbages, brussels, broccoli, leafy greens, kale and collard transplants. This will save you tons of time.
Keep Those Beds Soaked: Make sure you water your seedlings and transplants well. The stress of being planted on a hot summer day could take its toll on your babies.  Shade cloth may be helpful depending on where you are. The hot summer sun may be extremely drying, taking time to hand water well, and keeping your seedlings shaded could make all the difference.
Load Up On Mulch: This is true for any growing season and late summer, early fall is still susceptible to weeds and soil drying out. Place old sheets of newspaper or cardboard around plants, then top with untreated grass clippings, hay, decaying leaves or whatever organic mulch you have on hand. Avoid treated and dyed mulches on your edible garden. HINT: Water thoroughly before placing down the mulch!
Keep An Eye Out For Pests: Summer weather has had the 6 legged notso friendly bugs in full swing and your fall crops are equally as susceptible to their damage. Stay on the lookout for cabbage moths, grasshoppers, and army worms. Row covers work great to keep your lil ones protected.
Happy gardening!  We wish you and your garden all the best!